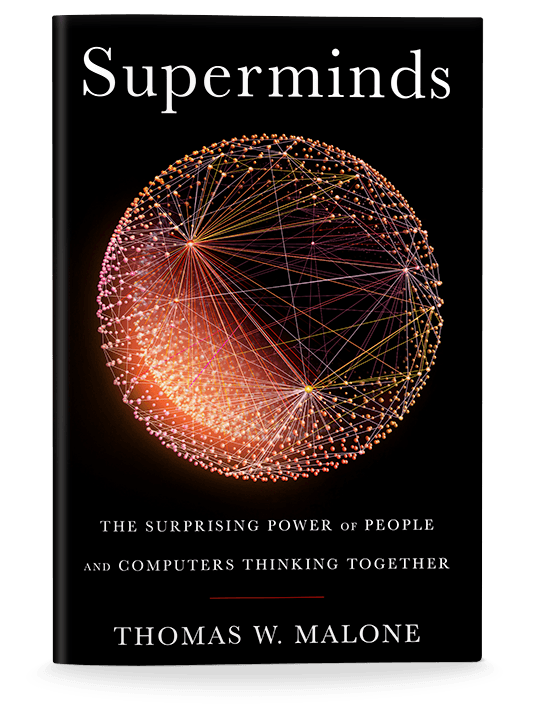 By Thomas w. Malone
Superminds
The Surprising Power of People and Computers Thinking Together
From the founding director of the MIT Center for Collective Intelligence comes a fascinating look at the intelligence exhibited by groups of people and computers working together.
Superminds articulates a bold — and utterly fascinating — picture of the future that will change the ways you work and live.
If you're like most people, you probably believe that humans are the most intelligent animals on our planet. But there's another kind of entity that can be far smarter: groups of people. In this groundbreaking book, Thomas Malone, the founding director of the MIT Center for Collective Intelligence, shows how groups of people working together in superminds — like hierarchies, markets, democracies, and communities — have been responsible for almost all human achievements in business, government, science, and beyond. And these collectively intelligent human groups are about to get much smarter.
Using dozens of striking examples and case studies, Malone shows how computers can help create more intelligent superminds not just with artificial intelligence, but perhaps even more importantly with hyperconnectivity:  connecting humans to one another at massive scales and in rich new ways. Together, these changes will have far-reaching implications for everything from the way we buy groceries and plan business strategies to how we respond to climate change, and even for democracy itself. By understanding how these collectively intelligent groups work, we can learn how to harness their genius to achieve our human goals.
Deeply explores the power of information technology to enable truly new forms of human organization. Highly recommended.
– Jimmy Wales, Wikipedia founder
From the father of collective intelligence, a refreshingly realistic view of how computers will supercharge collective intelligence and how these superminds can help us tackle the most complex problems that face the world today.
In this fascinating book, Tom Malone introduces us to new vistas of human capability and creativity achievable through collective intelligence. By thinking imaginatively about our future, Malone helps us think differently about the present.
– Anne-Marie Slaughter, CEO of New America; author of "Unfinished Business"
Tom Malone puts worries about artificial intelligence in perspective, explaining why AI works best when combined with humans in superminds. What makes a supermind more or less intelligent is just one of many surprises in this fascinating book.
– Patrick Winston, former director of the MIT Artificial Intelligence Laboratory; author of "Artificial Intelligence"
The wonderful essence of Tom Malone's book is to imagine how people and computers will interact on a massive scale to create intelligent systems. And by imagining them in advance, we have some hope of nudging them in a positive direction.
– Esther Dyson, executive founder of Way to Wellville; author of "Release 2.1"
Humans plus computers and networks have enormous potential. How can such wee creatures as ourselves take advantage of this potential? In his new book, Malone addresses this question in a concrete way, laying the foundation for a new discipline: the systems engineering of superminds.
– Vernor Vinge, Hugo Award-winning science fiction author; originator of the "technological singularity" concept
Malone takes us on an intentional journey into thinking about thought, intelligence, reasoning, and consciousness. He sees these notions in extremely broad terms that have changed my views of what it means to 'think.'
– Vint Cerf, VP, Google; one of the "fathers of the Internet"
Thomas W. Malone
is the Patrick J. McGovern Professor of Management, a professor of information technology, and a professor of work and organizational studies at the MIT Sloan School of Management. He is also the founding director of the MIT Center for Collective Intelligence and was one of the two founding co-directors of the MIT Initiative on "Inventing the Organizations of the 21st Century." Malone is the author of 
The Future of Work
 and more than 100 articles, research papers, and book chapters. He has also been a co-founder of four software companies; an inventor on 11 patents; and a co-editor of four books.
Press Mentions
HR People + Strategy, Creating Superminds of Human-Computing Resources. Fall 2020
MarketWatch, 4 questions to ask yourself about living to 100 – because there's a chance you will. November 30, 2020 
MIT Sloan School of Management, What business leaders need to know about artificial intelligence. September 16, 2019
Hackernoon, Why Crypto-Trading Will Get Social in 2020. September 13, 2019
MIT Sloan School of Management, What business leaders need to know about artificial intelligence. September 16, 2019
"Thomas W. Malone: 2019 National Book Festival," Library of Congress (Event date: August 31, 2019)
"Open Phones with Thomas Malone," C-SPAN (Premiere date: August 31, 2019)
Human Resource Executive, Are 'Superminds' the Next Step in Tech Disruption?. August 2, 2019
The Wall Street Journal, What AI Will Do to Corporate Hierarchies. April 1, 2019
BBC, Are we close to solving the puzzle of consciousness? March 27, 2019
Financial Times, The 'softer' side of business is harder to get right. February 24, 2019
Deloitte Insights, Superminds: How humans and machines can work together. January 28, 2019
MIT Technology Review, How AI is changing knowledge work: MIT's Thomas Malone, Podcast. January 24, 2019 (On Stitcher: https://www.stitcher.com/podcast/mit-technology-review/business-lab)
Medium, Superalgos & The Trading Singularity. January 16, 2019
Prensa Antártica, Thomas Malone y las "supermentes" en #CongresoFuturo en Magallanes: entre inteligencia artificial, cambio climático y sociedad. January 13, 2019
La Opinión A Coruña, Nuestros logros son fruto de una red. January 4, 2019
Fergus Nicoll, Interview with Thomas Malone, Business Matters, BBC World Service, November 29, 2018. (Interview segment at time 26:30 – 34:05. Discussion of the interview by commentators at time 34:05 – 41.45)
all turtles, How swarm intelligence helps AI make better decisions. November 8, 2018
Breaker, How "Superminds" Will Help the World Solve Its Most Intractable Problems. October 17, 2018
Axios, The upside of humans – a lot of them. September 21, 2018
Netzwoche, Wie die Digitalisierung Mensch und Maschine zum Supergehirn vernetzt. September 17, 2018
The Economist, The pros and cons of collaboration. September 6, 2018
Management Today, How AI-human superminds will save jobs. August 20, 2018
"The Future of Collective Intelligence," The Day That Was (Channel 10, Israeli TV), July 31, 2018
The Australian Financial Review, Expanded opportunities in the new workplace. July 25, 2018
Management Today, What CEOs are reading – July 2018. July 17, 2018
MIT Sloan: A Better World in the Making, Putting Collective Intelligence to Work. July 9, 2018
La Vanguardia, La inteligencia artificial sólo es conectar las humanas. July 9, 2018
MIT Sloan School of Management, 8 new business insights from MIT Sloan Management Review. July 6, 2018
Gizmodo, My 15 Favorite Science and Tech Books for Smart Beach Reading. July 5, 2018
Quartz, By the definition of consciousness, Apple could be considered a conscious organism. June 28, 2018
MarketWatch, Don't worry, robots aren't going to steal your job – yet. June 23, 2018
"The benefit of working in groups," Interview with Thomas Malone about 'Superminds'. The Morning Show, Global TV (Canada), June 19, 2018
The Economist, Why collaborative thinking beats individual smarts. June 18, 2018
The Globe and Mail, Fake news is a problem. Maybe 'superminds' can help. June 15, 2018
The Wall Street Journal, Harnessing the Collective Intelligence of Humans and Machines. June 8, 2018
Salon, What Elon Musk doesn't understand about journalism. June 2, 2018
Bloomberg, Who Among Us Can Read a Sextant? June 1, 2018
Reprinted in The Post and Courier, New technology endangers old skills. June 3, 2018
MIT Sloan Management Review, How Human-Computer 'Superminds' are Redefining the Future of Work. May 21, 2018
LinkedIn, Is cyber socialism worth a try? May 18, 2018 (Chinese translation, July 27, 2018)
MIT Sloan Newsroom, In 'Superminds,' an Argument for Calm About Robots, Artificial Intelligence, and Jobs. May 15, 2018
Video Presentations
Malone, Thomas W. Institutions as superminds: Five forms of group decision-making (keynote presentation). Interdisciplinary conference on "The Choice II: Market, Organization, Democracy, Algorithm, or Community?" University of Michigan, Ann Arbor, MI, December 13, 2019
Malone, Thomas W. (Interviewed by Gary Bolles) Superminds: The Power of Collaboration, Techonomy 2019 Conference, Half Moon Bay, CA, November 17, 2019
Malone, Thomas W.  Superminds: The surprising power of people and computers thinking together. School for Advanced Research (SAR) Annual Public Creative Thought Forum Lecture (joint with Innovate Educate 2019 Close It Summit), Santa Fe, NM, October 16, 2019
See also Creative Thought Forum Salon held the following day as a follow-up to this presentation
Malone, Thomas W. Superminds: The surprising power of people and computers thinking together. Invited presentation on the "Science" stage for the Library of Congress National Book Festival, Washington, DC, August 31, 2019
Malone, Thomas W. How superminds can help us become the species we want to be, Futures Congress, Santiago, Chile, January 15, 2019 (Premiere date: June 14, 2019)

MIT Sloan, E62-276 • Cambridge, MA
Watch Thomas W. Malone, Joi Ito, Patrick Winston, and Kathleen Kennedy engage in an exciting discussion around the power of superminds.
Author: Thomas Malone, Patrick J. McGovern Professor of Management; Director, MIT Center for Collective Intelligence; MIT Sloan School of Management
Panelist: Joi Ito, Director, MIT Media Lab; Professor of Practice in Media Arts and Sciences, MIT
Panelist: Patrick Winston, Former Director, MIT Artificial Intelligence Laboratory; Author of Artificial Intelligence
Moderator: Kathleen Kennedy, Director, Special Projects, MIT